Who we are


31 Maggio 2023, ore 20,45: Gruppo biblico sul Qohelet.


Sabato 10 giugno 2023, ore 9,30 : avrà luogo a Villa Concordia di Teolo l'ultimo incontro di deserto e fraternità. L'incotro, che come gli altri si sviluppa sulle Domande di Gesù, avrà come tema specifico la domanda:
DA CHI ANDREMO, SIGNORE? (GV 6,59-71)
Gli incontri, aperti a tutti, sono rivolti in modo particolare agli universitari
Ritrovo c/o la Cappella di San Massimo alle h 8.30 - Rientro dopo pranzo
Si prega di comunicare la propria adesione alla Signora Luisa entro le ore 13 di giovedì 8 giugno , specificando se si resta a Pranzo.

Gli orari degli appuntamenti settimanali per l'anno 2022-23 sono i seguenti:
Eucarestia domenicale: ore 18.45
Preghiera di lode: da Lunedì a Venerdì alle ore 7.45
Vespro ed Eucarestia:da Lunedì a Giovedì alle ore 19
Ogni lunedì sera alle ore 18.15: gruppo giovani.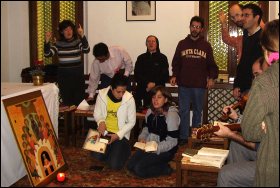 We are a community of college students, alumni, educators, and adults interested in the college world. We come from various parts of Italy and the world: in this chapel there is a particular tendency to have people who come from far away (Albania, France, Poland, Russia, but also Sicily, Puglia, Calabria, and Sardinia).
We are brought to life by our faith in Jesus Christ and we believe in his promise that: "Where two or three are gathered in my name, I am amongst them."
If you too believe in God's promise, or even if you are searching for a relationship with God, then you are welcome among us. To give you an idea, you can: see this year's activities, get directions, or find out how to contact us.
Together with the entire Church and with those who work with the pastoral university of the Bishop of Padua, we unite in a small chapel in the center of Padua and we search, together with many religious people, to listen to, pray, live, and announce the word of God.
While at times this experience asks for commitment and responsibility, it is nonetheless very rewarding and fun: we are waiting for you.